In recent years, there has been a significant increase in the number of international visitors arriving by air at either Phnom Penh or Siem Reap in Cambodia.
Most international visitors choose to arrive by air at either Phnom Penh or Siem Reap. In response to Cambodia's open skies policy, an increasing number of airlines now operate in the country. The list of international airlines serving Cambodia includes Bangkok Airways, China Southern Airlines, Dragonair, EVA Air, Lao Airlines, Malaysia Airlines, Mandarin Airlines, Mekong Airlines, Shanghai Airlines, Siem Reap Airways International, Silk Air, Royal Phnom Penh Airways, Thai Airways International, and Vietnam Airlines.
Upon arrival at Phnom Penh, taxis are available outside the arrival hall for transportation to the city center. The taxi fare from the airport to the city is approximately US$7, and the journey takes around 15 minutes, depending on traffic.
In Siem Reap, the cost of a taxi ride from the airport to the town area is approximately US$5. Many larger hotels offer complimentary transport, so it's advisable to inform your hotel of your flight details in advance.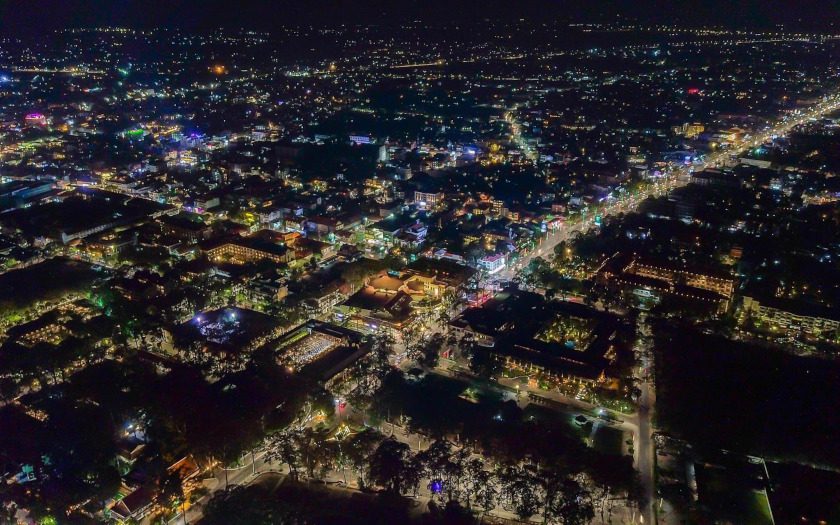 Overland travel to Cambodia is possible through border crossings with Thailand, Laos, and Vietnam.
When it comes to traveling within Cambodia, tourists have various modes of transportation available, including air travel, buses, trains, boats, and taxis. The choice of transportation depends on factors such as distance, available time, budget, and sometimes weather conditions, as travel by road can be slow during the wet season, especially in the provinces.
For traveling within major cities like Phnom Penh, Siem Reap, and Sihanoukville, the most common form of public transport is the motorbike taxi, known as a moto. Motos are fast, inexpensive (negotiate the price before the trip), and easily accessible. However, if you're not comfortable riding as a passenger on a motorbike in heavy traffic, particularly in Phnom Penh, there are alternative options.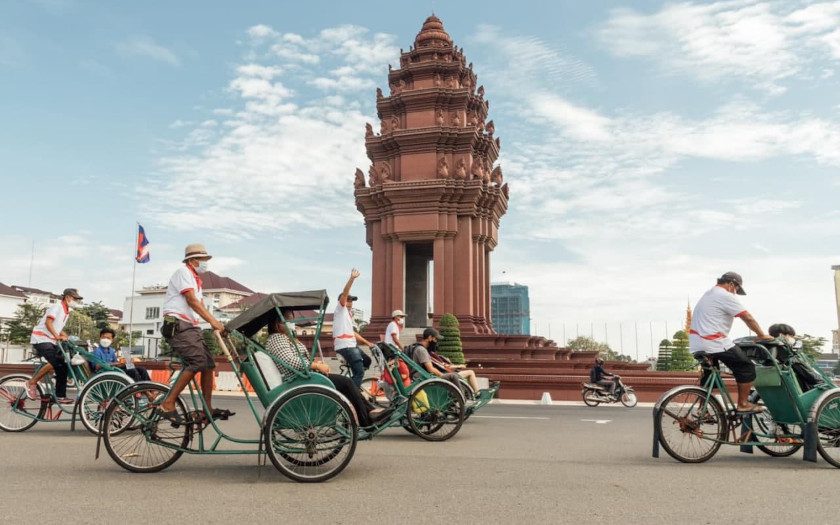 Cyclos, a type of bicycle taxi, are also commonly found in cities and provide a safer and more leisurely way to get around, although they are slower. Again, it's recommended to negotiate the price before the ride.
For comfort and safety, hiring a car with a driver is a good option, which typically costs around US$20-$25 per day. Your hotel or guesthouse can usually assist in arranging a car for you.
Cambodia offers a wide range of accommodation options to suit different preferences and budgets, ranging from luxurious 5-star hotels to affordable and friendly guesthouses.

The official currency in Cambodia is the Riel, but US dollars are widely accepted, with many businesses setting their prices in dollars. It's advisable to carry some riel for smaller purchases. The current exchange rate is approximately 4000 riel to 1 US dollar. Credit card acceptance is increasing in Cambodia, and some major commercial banks allow cash advances against credit cards. However, there are no ATMs that provide access to foreign bank accounts.
Cambodia has a tropical climate characterized by warmth and humidity. The monsoon season brings abundant rainfall, allowing for the cultivation of various crops. The year-round tropical climate makes Cambodia an ideal destination for tourism. Natural disasters such as volcanic eruptions or earthquakes are not a concern, and the country is not directly affected by tropical storms.
Cambodia can be visited throughout the year, although those planning extensive road travel should avoid the last 2 months of the rainy season when some countryside roads may become impassable.
The climate can be described as tropical, with two distinct seasons: the Rainy Season and the Dry Season. The Dry Season is further divided into the cool and hot sub-seasons:
1. Rainy Season: From June to October, with temperatures ranging from 27 to 35 degrees Celsius (80 to 95 degrees Fahrenheit).
2. Dry Season (Cool): From November to February, with temperatures ranging from 17 to 27 degrees Celsius (63 to 80 degrees Fahrenheit).
3. Dry Season (Hot): From March to May, with temperatures ranging from 29 to 38 degrees Celsius (84 to 100 degrees Fahrenheit).
Cambodia is one of the few countries that can be enjoyed by visitors year-round.