To explore Ta Phin village, it is recommended that travelers spend a day leisurely walking through the hilly terrain, covering a distance of 12 kilometers from Sapa to Ta Phin. This village is home to the H'Mong and Red Dao minorities, and visitors will have the opportunity to observe them working in their terraced paddy fields and commuting between the market and their homes.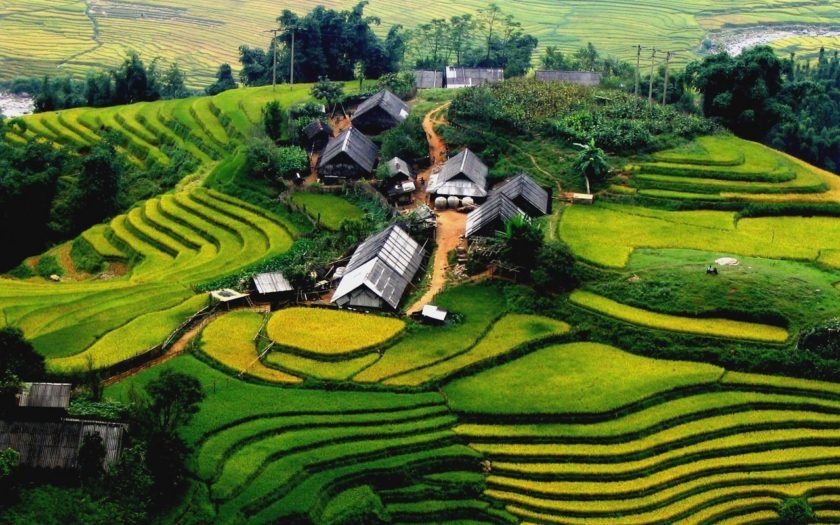 Located a little over halfway to Ta Phin is an abandoned French monastery, standing as a ruin for over half a century. Nestled on the side of a small windy hill, the monastery sits quietly amidst a garden of green artichoke plants and grass. The remnants of stone pillars and moss-covered walls serve as a reminder of the building's former grandeur, making it an intriguing destination for those interested in exploring old French architecture and village history.

Within Ta Phin, at its far end, lies a lesser-known cave awaiting adventurous travelers. This ancient cave remains unfamiliar to most outsiders. If time permits, local children will guide visitors with torchlights, offering a tour of the cave for a nominal fee of around VND 20,000 (approximately US$1.25). The cave boasts various stalactite formations, and the children will shine their torchlights on different figures that can spark one's imagination. However, unlike the magically illuminated and colorful stalactites found in caves like Ha Long Bay in northern Vietnam or Phong Nha-Ke Bang National Park in central Vietnam, Ta Phin Cave relies on electric lights that are switched on when visitors arrive.

It's important to note that the winding passageway inside Ta Phin Cave narrows toward the end, making it challenging for larger individuals to pass through. Therefore, it is advisable for larger Westerners not to venture further to avoid difficulties in returning.




While exploring the hill-tribe village, visitors will come across ancient carvings on boulders and stones, and local residents are happy to point out their locations. The locals, including children and adults, can communicate in English and French, so feel free to seek their assistance if needed.

As Ta Phin is a tourist village, it's common for local children and adults to accompany visitors, promoting and encouraging them to purchase bags, wallets, clothes, and other merchandise made from an ethnic fabric known as "tho cam." Initially, the persistent following might be intimidating for first-time visitors, but these individuals are amicable and eager to engage in conversation.

Some locals may extend invitations to their homes, allowing visitors to glimpse their way of life, and possessions, and share stories about their families. When accepting such invitations, one will witness the simplicity of their living conditions. Remember to show appreciation by purchasing any desired merchandise from them as a token of gratitude for their hospitality.

When traveling to Ta Phin near Sapa in Lao Cai province, it is highly recommended to bring a camera along. Capture the picturesque scenery of lush green rice paddy fields, majestic mountain ranges, traditional ethnic houses, exquisite embroidery craftsmanship, and other captivating attractions encountered along the journey to the village. Additionally, the friendly ethnic children and adults will gladly pose for photos or be part of your recorded memories before bidding farewell to their homes.