Vietnam is an exceptional country, offering a captivating and enlightening experience for holidaymakers. Below, you'll find some practical information and useful tips for your travels in Vietnam. Enjoy your trip!
Vietnam is home to over 86 million people, with the majority residing in urban areas. However, there are also numerous ethnic minority groups living in the mountainous regions, particularly in the far north. We highly recommend exploring the mountainous area of Sapa, embarking on treks, and immersing yourself in the local culture by interacting with the welcoming locals. For a glimpse of Vietnamese heritage, visit the town of Hué, while Hoi An offers a vibrant atmosphere and plenty of enjoyable activities like cycling through picturesque rice paddies, lounging on nearby beaches, or participating in traditional Vietnamese cooking classes.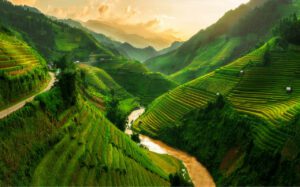 Internet: Internet access is widely available throughout Vietnam. Many hotels offer in-room Wi-Fi, while others provide access through designated Internet lounges. The country is renowned for its stunning landscapes, including the famous Mekong Delta, picturesque valleys, majestic mountains, rolling hills adorned with rice paddy terraces, and pristine beaches. Vietnam shares borders with China, Laos, and Cambodia. Most travelers begin their journey in Hanoi and often conclude with a few days of relaxation at the beach. Alternatively, you can fly into Saigon, now officially known as Ho Chi Minh City, named after the revered Vietnamese leader, "Uncle Ho."
Time difference: Vietnam is 6 hours ahead of the UK, and during the UK's winter time, an additional hour is added to the time difference.
Best time to travel: The period from December to May is generally considered the best time to visit Vietnam. However, the country can be explored at any time of the year.
Language: Vietnamese is the official language, but many people also understand English. English menus and books are readily available. In some regions, you may even hear French being spoken, as Vietnam was once a French colony.
Currency: The official currency in Vietnam is the Vietnamese Dong (VND), although many establishments also accept US dollars. The exchange rate fluctuates daily, but as a rough estimate, £1 is approximately equal to 25,450 VND.
Telephone calls: You can use your mobile phone in Vietnam; however, international roaming charges may be costly. Alternatively, you can purchase an international phone card to make calls from public telephone booths.
Photography: It's important to ask for permission and exercise restraint when taking photographs in Vietnam, as there may be restrictions in certain areas.
Voltage: The electricity supply in Vietnam operates at 220 Volts with an alternating current of 50 cycles per second. If your devices do not support these specifications, you will need a voltage converter. Additionally, the electrical sockets in Vietnam may differ from those in your home country, so it's advisable to bring a universal plug adaptor.
Vietnam travel tips - National holidays:
January 3: Enlightenment of Buddha
February 3: Communist Party of Vietnam Foundation Anniversary
February 11-19: TET Festival (celebrating the Lunar New Year, marking the Year of the Tiger in 2010)
April 30: Liberation Day
May 1: Labour Day
May 2: Buddha's Birthday
May 19: Ho Chi Minh's Birthday
September 2: Independence Day
September 3: Anniversary of Ho Chi Minh's Death